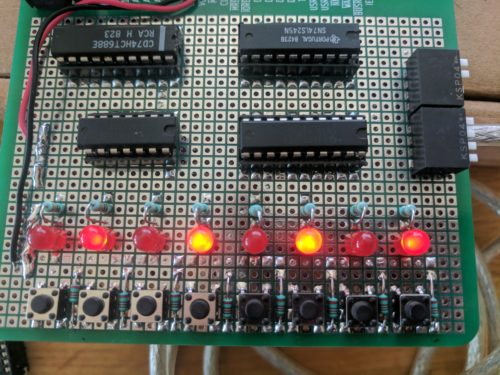 While working towards getting my LiNC80 SBC1 kits ready for sale, I had a little bit of waiting-time to cover. During that time, Steve Cousins and I were talking about his boot-up status output using a standard I/O port, and that it would be nice if I would be able to provide a digital I/O card a short time after launching the kits.
As I already had my prototype prototyping cards and a bit of time, I designed a card inspired by Spencer's RC2014 Digital I/O card, and assembled it using simple point-to-point wiring. As expected, the card performs exactly what it was designed to do, both when connected directly to the SBC and when connected to a 5-slot Z50Bus backplane.
This is a simple I/O card that uses a 74LS273 latch to receive and store output data displayed on eight LEDs, a 74LS245 bus tranceiver to "gate" the input switches/buttons as inputs, and a 74LS688 8-bit comparator to do full address decoding of 8 bits. The way the 8-bit comparator is used makes it possible for this card to use any single I/O address in the Z80 I/O address range. Writing to the selected address sets the output state, and reading the address reads the current values on the buttons/switches. Steve's SCMon uses the "reserved" address 0x30 as a simple output write port for status during boot, so setting this card's address to 0x30 allows the nice led-scroll to be seen 🙂
Based on the schematic below, I will start doing a PCB layout, and make this an official LiNC product as soon as the LiNC80 SBC1 launches proper.