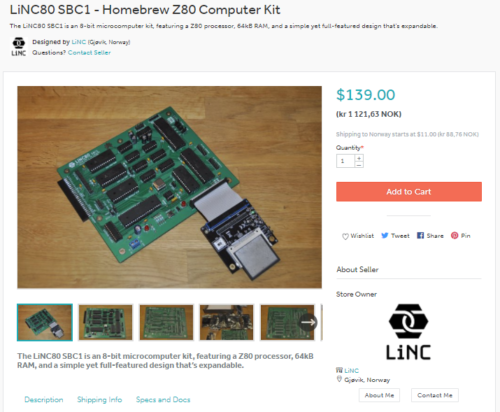 I am proud to announce that as of now, my LiNC80 SBC1 is available for purchase in kit form at Tindie!
It took me a few tries to get through the approval process, simply because the fairly high differences in the fairly high shipping costs incurred from using Posten Norge as my trusted carrier, forced me to make separate listings of Kit and PCB, and that caused issues, as Tindie weren't used to dealing with that.
I'm not sure if this is the culmination of or the start of a lot of hard work. Now starts the bit where I need to ship, restock, support and see what people make of it. But first of course the terrifying bit: will anyone actually purchase the kit?
If you want a compact, expandable, fun 8-bit retro computer  reminiscent of 1979, head on over to my Tindie shop now!